Main content starts here, tab to start navigating
A Family Company
Chocolate Cortés is a 4th generation, family-owned, Caribbean, bean-to-bar chocolate manufacturing company. Originally established in the Dominican Republic in 1929 by Don Pedro Cortés Forteza, his pioneer spirit promptly moved him to export, and subsequently begin production of Cortés products from his native Puerto Rico; thus paving the way to fulfill his vision of developing Caribbean grown cacao to its fullest potential. Known for its rich and delicious hot chocolate, Chocolate Cortés quickly became a favorite of Puerto Rican and Dominican households to this very day.
Who We Are
When we talk about chocolate in the Caribbean, we talk about Chocolate Cortés. Our family has been manufacturing chocolate from farm-to-bar since 1929, bringing joy to the homes of Puerto Rican and Dominican families ever since. In 2013, we opened the doors to Chocobar Cortés, introducing a culinary experience that celebrates the two passions of our family: chocolate and art. By creating with our passions in mind, we bring to life a world in which chocolate and los colores del Caribe take center stage. For you, from us.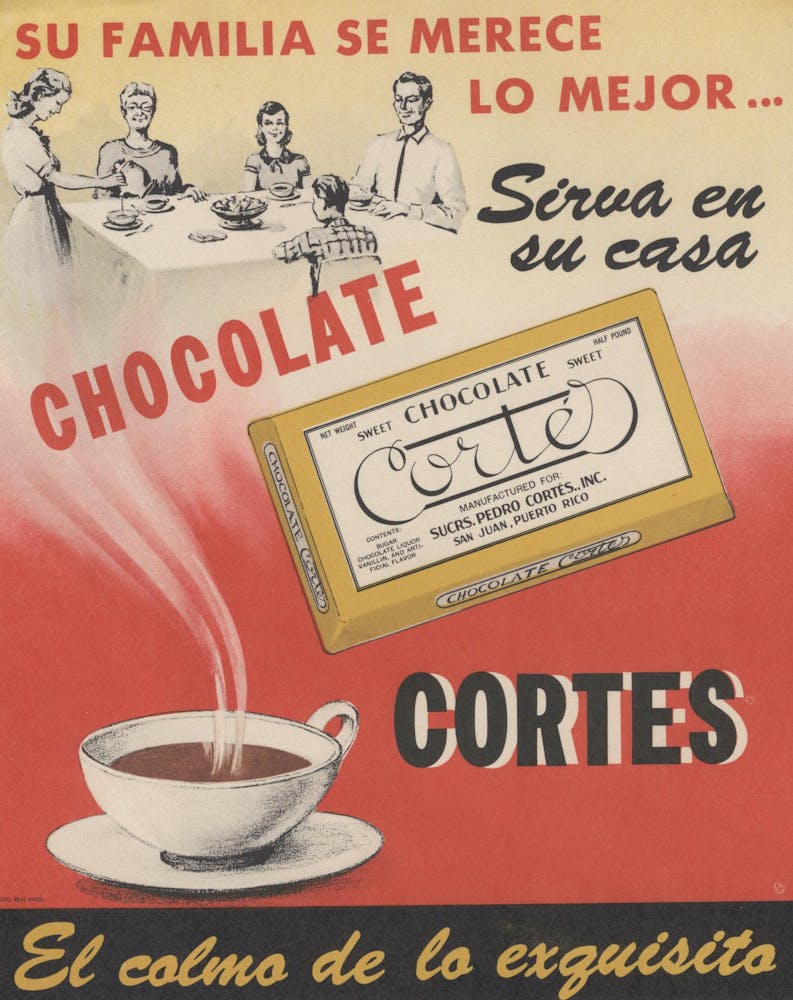 Mission
Our message is simple: su familia se merece lo mejor. We believe your family deserves the best. Enhancing the Communities we become a part of is as fundamental as the taste of the Caribbean is in our Chocolate. Both go hand in hand when creating original experiences for our customers and their queridos to share happy moments.
Vision
We hope to inspire the world with the taste of our chocolate, the richness of our culture, and the warmth of the Caribbean. You're invited to discover all that we have to offer with open taste buds, mind, and heart.
Farm-To-Bar Chocolate Manufacturers
Committed to providing the highest quality chocolate, Cortés is involved in every step of the chocolate-making process, from the selection of the beans to the final product. The company works closely with Dominican cacao growers supporting them in the form of financing, technical consultation, competitive prices, and other forms of assistance. Cortés' dedication to quality and sustainability has strengthened its global profile to become the current leading cocoa manufacturers in the Caribbean.
Cacao Pioneers
Recently, Cortés used its almost 90 years of experience working with cacao in the Dominican Republic to jumpstart the cacao industry in Puerto Rico. By selecting only cacao trees of the highest quality and yield, Cortés has provided a framework in which local agricultures can successfully grow cacao in a sustainable and profitable way. The hard work has started to pay off! Several of the varieties grown from this initiative have been recognized among the top 50 cacao beans in the world at the International Cocoa Awards in Paris, France.
Chocolate Innovators
In 2013, the Cortés family opened Chocobar Cortés, an innovative gastronomic space where chocolate is the celebrated ingredient. They recruited Chocolatier Patissier Chef Ricardo de Obaldía, a young Latin chef renowned for his elaborate and imaginative chocolate creations. Chef de Obaldía designed a menu in which every dish incorporates chocolate in some way, shape, or form. His creativity and the Cortés family's passion for chocolate has helped make Chocobar Cortés one of the top three rated restaurants in San Juan as well as one of the must visit travel destinations in Puerto Rico. We are proud to have won the 2017 Best Restaurant in the Caribbean by USA Today!
Passion for Caribbean Art
Established in 2012, Fundación Cortés is a 501(c)(3), non-profit organization with the mission to educate and inspire with our passion for the arts of the Caribbean. Our theory of social transformation consists of designing innovative and interactive art integration activities that complement academic and other theme-based curricula. To date, through our core program, Educa Cortés, we have served over 13,000 underserved children, youth and adults from all around Puerto Rico. Our two Caribbean contemporary art exhibit halls which open free of charge, become the main classrooms and the artworks the key educational tools. The exhibit halls are available for private events and special meetings.